8 Reasons the Nissan Elgrand Is the Perfect Car for Outdoor Adventures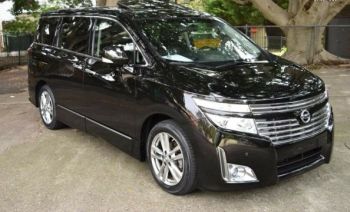 Nissan is one of the most popular car brands in the world. Between April 2018 and January 2019, they sold more than a quarter of a million passenger vehicles worldwide.
Many of Nissan's cars are sold around the world, but there are some models that are only released in Japan. It means that many of us haven't even heard of some of the best vehicles that Nissan produce.
One such Japan-only release is the Nissan Elgrand. This luxury MPV is highly popular in Japan, often being seen driven by local celebrities. It's also an excellent car for those seeking outdoor adventures.
Read on as we take a look at why the Nissan Elgrand is perfect for those seeking thrills in the open air.
1. You Can Bring the Whole Gang
If you looking to head out on your outdoor adventure with your family, or with a group of friends then the Nissan Elgrand has you covered.
There are two giant seats up front, with plenty of space between them. Two more large captain-style seats make up the middle row, and these can rotate to face the rear if needed. At the back there's a row of three more seats, making a total of seven.
If you're looking for a vehicle that can carry a large number of people in comfort and style, then the Nissan Elgrand is a great choice.
2. It's Got a Powerful Engine
If you're bringing the whole gang along, then the chances are you're going to have a lot of gear with you too. A large group means that you're probably going to be pretty heavily laden.
The good news is that then Nissan Elgrand has more than enough grunt to deal with it. It's available in with either a 2.5-litre (186 hp) or a whopping 3.5-litre (240 hp) V6 engine. No matter how heavy the load, you'll have the power you need to get you to your destination.
You may find yourself surprised how fast you're going as the ride is so slick. It means you can spend less time on the road, and more time enjoying your outdoor adventures.
3. It's a Joy to Drive
Your journey should be part of your adventure. The Nissan Elgrand ensures that the destination isn't the only enjoyable part of your trip.
The engines in the Nissan Elgrand are well-known for being incredibly smooth whilst offering plenty of performance for such a large vehicle. You won't feel the road, thanks to the MacPherson front struts and multilink rear suspension. Whether you're driving or a passenger, it will be smooth sailing.
The vehicle also includes an ABS braking system as well as Nissan's Vehicle Dynamic Control. This proprietary system uses seven sensors placed around the car to monitor how it is being driven. The system can then compensate for oversteer or understeer as well as controlling brake pressure to reduce wheel slip.
Add in the radar cruise control and you have a joyous driving experience.
4. You Can Opt for Four-Wheel Drive
If you're planning to take your Nissan Elgrand through challenging conditions, then you'll appreciate the option of switchable four-wheel drive.
If you're driving over wet, icy, or snowy roads then activate 4WD and you'll have far better control. In dry conditions, switch back to rear-wheel drive which is more efficient.
If you're not a fan of 4WD there's also a rear-wheel drive only option available. As you're buying an imported car, it's important to choose the right options in advance.
5. It's Great for Towing
If you're heading for an outdoor adventure, you may find yourself needing to tow. Whether you're hauling extra equipment or a speedboat, the Nissan Elgrand has your covered.
Four-wheel drive is a real boon if you're planning on towing. In poor conditions, or when you're driving through grassy fields, the additional traction of 4WD can be an absolute godsend. The 3.5-litre engine means that you won't feel held back no matter how large a load you have behind you.
If you're looking for an MPV that can handle your towing needs with ease then the Nissan Elgrand is a great choice.
6. You'll Be Entertained
Setting out for your next big adventure is exciting, but after a few hours on the road, the excitement can begin to wane.
The Nissan Elgrand ensures that you won't get bored, no matter how long your journey. If you're in the mood for some tunes then the Bose nine-speaker sound system, complete with subwoofer in the boot, will help you get the party started in style.
If listening to music isn't entertaining enough, then why not take advantage of the roof-mounted 11-inch LCD TV screen for the rear passengers. Pop a DVD in and sit back and enjoy. If you're worried about disturbing the driver, there's even a set of wireless headphones included.
7. You Can Travel in Comfort
As you'd expect from a luxury MPV, the interior is designed for comfort.
The full leather seats have built-in adjustable calf rests. There is dual zone climate control to keep everyone inside at the perfect temperature. Or if you prefer you can take advantage of the twin sunroofs that you can operate via remote control.
The power rear doors can also be opened via remote control from the key or from the driver's seat. There are even electric curtains to save you the effort of having to pull them yourself.
You can be sure that you'll arrive at your destination refreshed and ready for adventure.
8. It's Easy to Park
The Nissan Elgrand is a large vehicle, as its name suggests. That doesn't mean it isn't a breeze to park.
It comes with Nissan's Around View Monitor technology, which is a system that gives the driver a bird's eye view of the vehicle. Once you have selected a parking space, the system will show you where you need to move to in order to start the parking manoeuvre. You are then given both voice and visual guidance to navigate perfectly into the space.
Parking your Nissan Elgrand is as easy as it gets.
Are You Looking to Buy a Nissan Elgrand?
If you're looking for a Nissan Elgrand to facilitate your outdoor adventures, then you're in the right place.
Algys Autos has been importing cars from Japan to the UK market for more than 20 years. We can source and supply any Japanese car that you wish in the exact specification that you need and ensure that it's fully UK registered.
If you would like to know more about the services we offer then please don't hesitate to get in touch.