Nissan Elgrand For sale UK Registered direct from Japan including the Nissan Elgrand Rider Edition by Algys Autos Ltd, THE Best Value in the UK. FACT. Your search for the best quality and best prices Nissan Elgrand for sale starts and ends here! All available via our unique 'Import Scheme'.
Nissan Elgrand For Sale in the UK Via Algys Autos.
The UK Premier Importer supplying direct from Japan for over 20 years!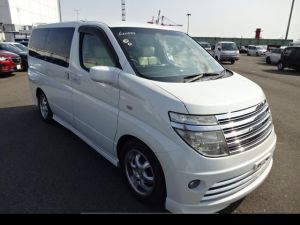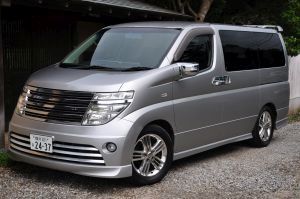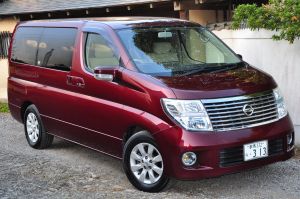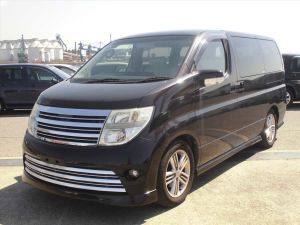 Introduction –
Important, Please Read
History of the Nissan Elgrand & Models Available
The Nissan Elgrand is a luxury MPV 8 or 7 (Captain Style) seat people carrier manufactured by Nissan since 1997. The first generation of the Nissan Elgrand was produced from May 1997 until May 2002. Various engine combinations were available including petrol and diesel. The cars had a 4 speed automatic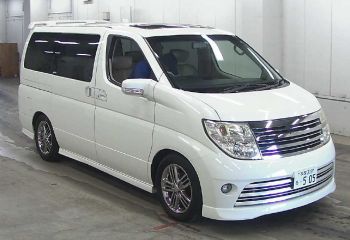 transmission and came in either 2- or 4-wheel drive. Trim levels varied but were all generally considered to be of a high almost luxury standard with aircon, wooden trim and 1/2 leather interior available.
The 2nd generation Nissan Elgrand available from late 2002 uses either the 2.5l or 3.5l V6 VQ-series engine combined with a five-speed automatic transmission with Tiptronic gearbox for better response. The Nissan Elgrand 2nd Generation was the direct rival competitor to the beautiful Toyota Alphard. The Alphard was generally more expensive than the Elgrand. On the Elgrand the additional transmission controls include Power and Snow settings, as well as 4×4 power options. It employs a multi-link rear suspension with ventilated disc brakes all around. The 2nd generation exterior is quite similar from that of its predecessor, but is now equipped with electronically remote-controlled doors, side mirrors with signal lights, a rear roof spoiler, and 16- (XL) or 17-inch (HWS) aluminum alloy wheels. The new front styling, including a chromed grille, gives the Elgrand a sportier look.
Interior features include captain-style seats, an eight-speaker sound system with an optional nine-speaker system by Bose and a TV/DVD player with a nine-inch (229mm) screen. The Elgrand is also equipped with an eight-inch (203mm) LCD monitor in the dashboard for the Carwings Vehicle Information System (also known as VIS). Optional extras include heated front seats, electronic curtains and finer levels of interior trim, such as wood-grain effects on fascia panels and the steering wheel.
Like most newer models produced by Nissan, the Elgrand comes with the "Keyless-go" feature for enhanced user convenience. Higher spec Elgrands like the Highway Star, Rider, X and XL versions come with an internal GPS system dedicated for use in Japan only. The Elgrand like all cars have different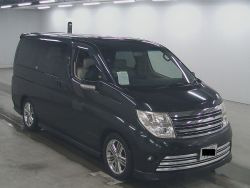 models with varying degrees of extras, comfort and specification. The Highway Star is Nissan's model name for many of its Flagship models and has superior specification levels. Auctech also upgraded the Elgrand and produced a Elgrand Rider, this was done under Nissan approval and license. It was the total top of range luxury model and came with many cosmetic and useful additions. The Nissan Elgrand Rider is easy to recognise and can be immediately identified by a facelift front grille, all-round aero skirts and different lights, the interior was fully upgraded to include polished wood and leather and a far superior sound system. If you look further down this page there is a lovely example of a white Elgrand Rider for sale.
In 2008 the Nissan Elgrand was offered with a smaller 2500cc petrol engine as well as the normal traditional 3500cc unit. The car also naturally had new enhanced cosmetics and refinements. The Elgrand is still in production today and Algys Autos can offer them as new as you wish, realise however these are absolute luxury Mpvs and price tags are about £30,000 for the newest 2013/2014 examples. In a nutshell there is probably a wonderful Elgrand to fit all budgets from £3000 for a 1998 car right through to £30,000 for a almost new edition. see some lovely examples below and feel free to contact us and be included in our daily email list of cars coming into our stock as well as Elgrand we are inspecting and recommending daily, simply contact us via an email link on this page.
What sets Algys Autos Ltd apart from the rest?
Simple, we import fresh stock direct from our Japan garages NOT from very inferior UK Dock auctions or from Bongo circulating for sale within the UK. Most UK traders buy from the used UK market, generally these cars are tired and have been subjected to the cruel and harsh winter roads and conditions. Ask to see the Japanese auction sheet and proof they imported it from Japan…..if they can't or won't provide it, turn around, walk away and come to the experts.
Compare our prices and you will recognise that Algys Autos is, without doubt, the best 'Value for Money' in the UK, You will note that the prices offered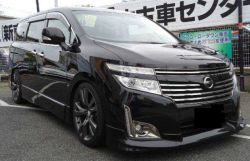 'Import Scheme'. The Import Scheme was a brain-child of Algys Autos over 20 years ago and many have tried to copy it with little success. The other traders even refer to the idea as the Import Scheme (conveniently dropping the 'Algys Autos' of course). The Import Scheme is where Algys Autos allows you to bring the selected vehicle into the UK as a 'Private Importation' and thus saves £1000's. We buy any model to your detailed requirements under this scheme via our Garages in Japan.
We are the UK premiere importer and supplier and represent over 600 garages in Japan! Our UK garage at Bristol offer full facilities and your car can be delivered to your door via transporter. For full details click the link 'Import Scheme' You can also see on the following page recently Sold examples of Mazda Bongo and Ford Freda purchased on our Import Scheme. These prices represent un-surpassable quality and value for money.
Algys Autos Ltd are suppliers of all Nissan Elgrand models to the trade, you too now have the opportunity to purchase at Japan trade prices! We consistently offer the very best value for money in the UK!
Contact us via email and ask for our advanced stock list of cars arriving weekly into the UK, we always have a minimum of 20 Nissan Elgrand for sale and en route to the UK at any given time!!
Remember:
Remember Algys Autos are a Major importer of all Japanese vehicles and are recognised by most as the only real alternative to safe best-price vehicle imports. We founded the unique 'Import Scheme' over 20+ years ago and offer it to our customers on all our cars. The price shown of these Nissan Elgrand offered for sale are 'On the Road' Via our 'Import Scheme' with 12 Months MOT, 6 months tax, in Excellent condition and fully UK Registered. Remember to get the best possible value on a quality Nissan Elgrand @ Algys Autos purchase via the Algys Autos Import Scheme for the Nissan Elgrand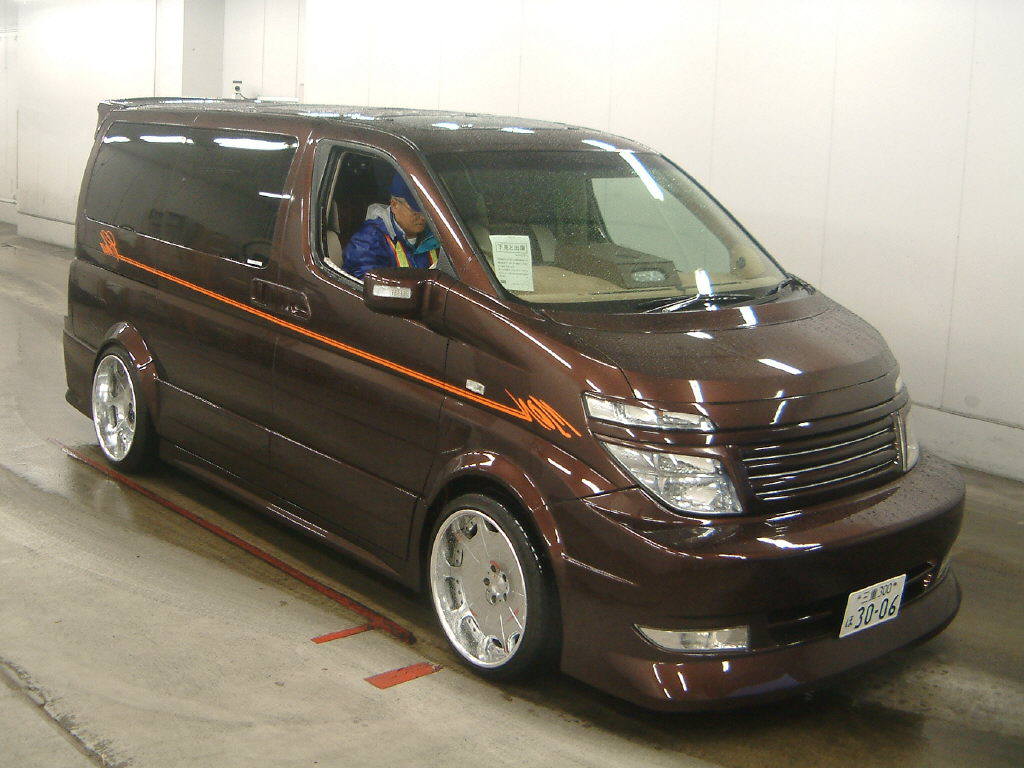 Some Examples of Nissan Elgrand For Sale direct from Japan & Supplied Fully UK Registered
Algys Autos always have a constant flow of Nissan Elgrand available (including the Nissan Elgrand Autech Rider Edition) for sale Via our Unique Import Scheme within the supply chain either just into Japan stock, en route via Vessel or putting into a UK port. To be honest it is incredibly difficult to keep the website daily current as stock literally changes constantly, here however are a few examples of those that we have recently imported within the system. it is my no means comprehensive as we have about 20 in the system at anyone time. For an advanced & accurate list always emails us for a no obligation list and be put on the daily email circulation. Email Here and ask  
Nissan Elgrand For Sale – 2007 (Sept) Nissan Elgrand (ME51) Highway Star 2500cc auto:
Grade 4 clean car with one small scratch on n/s/r bumper corner. Full factory aero kit and rear spoiler. Front fog lights. HID lights. Factory (17") alloy wheels. Winker mirrors. Privacy glass. Power slide door. Half leather seats. Power curtains. Leather steering wheel. Nissan dealer option dash monitor. Rear camera. ABS. Climate control. Dual airbags. Rear quarter windows OK. Intelligent keys(x2). Original floor mats. Blind spot mirror. Very clean interior. 56.000 miles with full service history Silver colour. 

Nissan Elgrand For Sale – Nissan Elgrand 3500cc Top of Range most sought after version. The Nissan Elgrand Rider! A true Luxury Mpv!
Chrome Pack, Face Lift, Aero, Full quality leather interior, 18'' Alloys, rear monitor, privacy glass, double exhaust system, HID Lights, ABS, 8 Seats, twin aircon, etc etc
LOW miles @ 38,000 Just arrived in UK Stock direct from Japan (Sorry this one now Sold). Contact for all photos and further details on any of our Nissan Elgrand. SOLD.

Nissan Elgrand For Sale -2007 (Dec) Nissan Elgrand (ME51) 2500cc auto:
Grade 4 with some tiny rock chips on front bumper. Factory alloy wheels with good tires. Front fog lights. HID lights. Winker mirrors. Rear and side cameras. Intelligent keys (x2). Privacy glass. Rear spoiler. Rear windows OK. ABS. Dual airbags. Climate control. Original floor mats. 55.000 miles Metallic wine red colour.

2006 Nissan Elgrand For Sale – (July) Nissan Elgrand (E51) Autech Rider grade 3500cc auto 4 Wheel Drive / Switchable 2 Wheel Drive:
Grade 4 with good Grade B Full leather seat interior. Full aero Rider body kit.After Sales alloy wheels with 50% tread tires. Front fog lights. HID lights. Privacy glass. Both side Power slide door. Power driver seat. Dash andflip-down monitors. Rear camera. Intelligent keys. Autech Rider Rear spoiler. ABS. Climate control. Dual airbags. Genuine 55,000 Miles. 8x Seats. A top of the Range Autech Rider with leather and 2/4WD!

And so what of the later Generation 3 Nissan Elgrand?
Nissan are still manufacturing the Elgrand model and Algys Autos can supply any edition or model you require, take a look at the luxury below as the model continues to flourish. From 2005 a smaller 2500cc petrol engine model became available. Prices realistically start from £10,000 and rise to £30,000 for an almost new example. Take a peek below and enjoy unashamed luxury!


If you contact us for our advance notofication Nissan Elgrand stock list you will also get the opportunity to see all Nissan Elgrand of your choice in the comfort of your own home to see time and again. These is NO obligation to our email service, advice or the YouTube videos.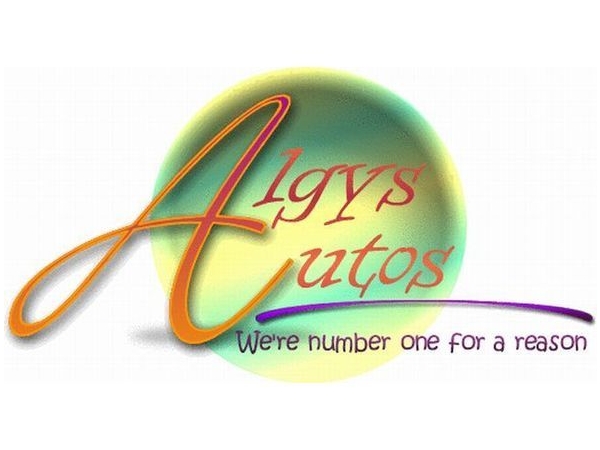 Look you've seen the cars and prices…….. surely you got the idea by NOW!
Algys Autos Ltd is by FAR the best UK value available!! How? We have garages in Japan and UK. NO middle-men. We have the FULL infrastructure in place and we are not greedy. £350 profit per car SIMPLE. Try asking another dealer how much profit he's made on a car!
IF you still need convincing check out our current stock list above under the link 'Stock' & also via email. No obligation, just email us and ask for the latest Nissan Elgrand email list. Not difficult is it. And then get a grip on yourself and call or email, ask to be put on the daily email list.   Nissan Elgrand For Sale.