Toyota Hiace Campervan For Sale UK Registered direct from Japan. We can import to order and camper convert to your specification at our Bristol garage. Toyota Hiace Campervan conversions from Algys Autos, THE Best Value in the UK. FACT. Your search with quality and best prices in mind starts and ends here! Direct Imports also available via our unique 'Import Scheme'.
Toyota Hiace Campervans For Sale in the UK Via Algys Autos.
The UK Premier Importer supplying direct from Japan for over 20 years!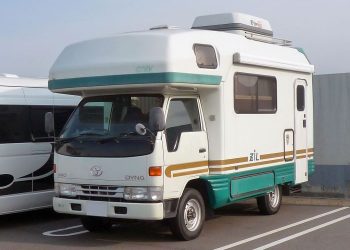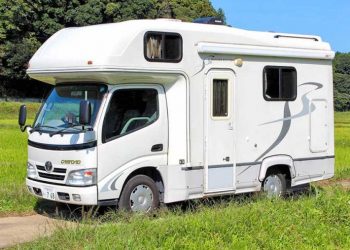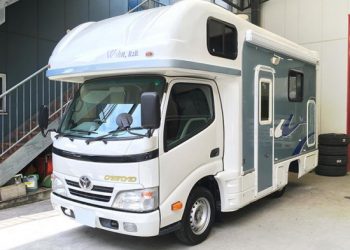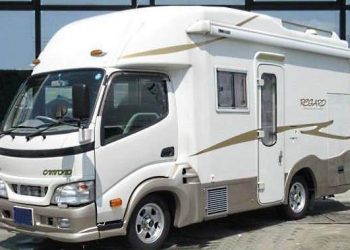 Introduction –
Important, Please Read
Toyota Hiace produce extremely versatile campervans being able to transport 4 to 8 people comfortably, sleep 2 to 6 persons, have the ability of cooking and washing facilities and yet be suitable for local camping as well as touring use. They host either petrol or diesel engines from 1800cc to 3100cc. Some of the Toyota manufactured Toyota Hiace Campervan models can come with or without electric elevating roof and a whole host of additional extra options like showers, cooking facilities, on board toilets etc.
Compare our prices and you will recognise that Algys Autos is, without doubt, the best 'Value for Money' Toyota Campervan for sale in the UK, You will note that the prices are offered via the 'Import Scheme'. The Import Scheme was a brain-child of Algys Autos over 26 years ago and many have tried to copy it with little success. The other traders even refer to the idea as the Import Scheme (conveniently dropping the 'Algys Autos' of course). The Import Scheme is where Algys Autos allows you to bring the selected vehicle into the UK as a 'Private Importation' and thus saves £1000's. We buy any model of Campervan to your detailed requirements under this scheme via our Garages in Japan.
We are the UK premiere importer and supplier and represent over 600 garages in Japan! Our UK garage at Bristol offer full facilities and your car can be delivered to your door via transporter. For full details click the link 'Import Scheme' .
Algys Autos Ltd are suppliers of all Campervan models to the trade, you too now have the opportunity to purchase at Japan trade prices! We consistently offer the very best value for money in the UK!
** STOP PRESS**!!
Algys Autos are now to supply FULLY Camper Converted Toyota Hiace Campervan from our Bristol garage. The Toyota Hiace will be imported direct from Japan, fully camper converted with all new bespoke camper equipment and available for sale, fully UK registered with 12 months Mot. It will be the largest Hiace Van that Toyota manufacture and with the 2700cc petrol engine linked to the fully auto gearbox! The 1st of 2 Hiace Campervan have arrived at the garage and have been fully campervan converted into a full bespoke camper conversion – ready for this years spring and summer! Call Dave or Glenn on 01179 382542.
Here is an example of the Toyota Hiace before campervan convert.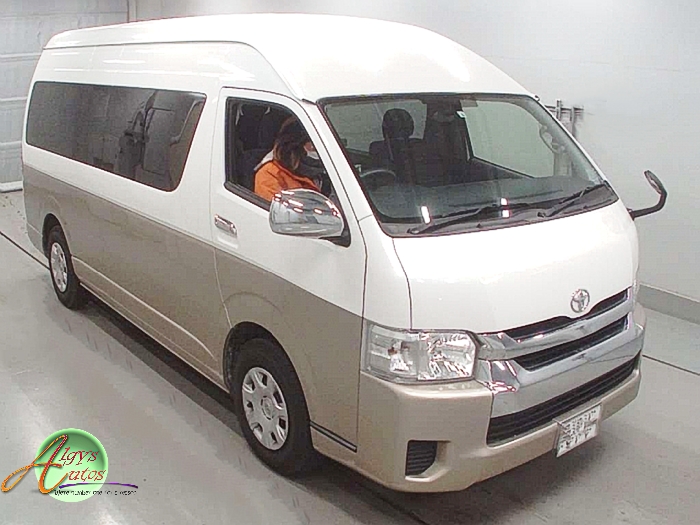 What sets Algys Autos Ltd apart from the rest?
That's simple, Algys Autos only import fresh stock direct from our Japan garages we do NOT purchase from very inferior Dock auctions or from Japanese Campervan circulating for sale within the UK. Most UK traders buy from the used UK car market, generally these Campervan are tired and have been subjected to the cruel and harsh winter roads and conditions. Ask to see the Japanese auction sheet and proof they imported it from Japan…..if they can't or won't provide it, turn around, walk away and come to the experts at Algys Autos.
Contact us via email and tell us what model Campervan you are interested in, budget and some details, we will reply with some ideas for you.
Toyota Hiace Campervan:
The Toyota Hiace camper comes in many guises with varying roof heights and equipment levels. In either 2.8 or 3.0 litre Turbo diesel engines. Prices start at about £7,000 OTR UK and rise to about £18,000 dependant on mileage, condition and age. There are various conversions and roof types and here are just a few to whet your appetite. Our prices are about £3000 – £6000 below general UK selling prices. No catches, just huge savings!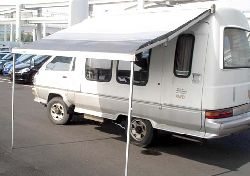 There are also some smaller Toyota Campervans to consider if you want just 2 or 4 berth. Toyota also make the Toyota Liteace and Townace. These Campervans come in 1800cc petrol or 2200cc Diesel and sleep either 2 or 4x persons.
Special Edition Mazda Bongo – Full Camping Conversions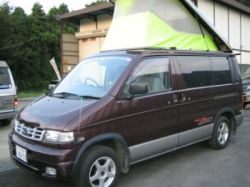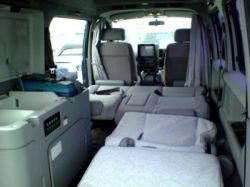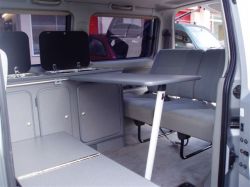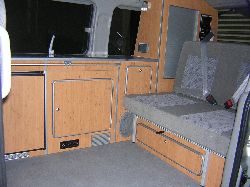 If it's a smaller Campervan you are wanting then also consider the Mazda Bongo which we can import for you and fuller camper convert as required. There are 2 ways to consider having a Mazda Bongo or Ford Freda in the UK with a camping conversion. Both options come with gas cooker, sink, waste and table.Further additions can be installed into both options although to install into the UK version is far easier and a more professional finished product:
The Mazda Factory Conversion. This conversion is factory fitted by the Manufacturers in Japan and has a molded and thus permanent conversion. It is obviously as old as the car and is to Japanese specification. The external hook-up is at 110 volts and will need a transformer (easy enough and cheap). Replacement parts are not easy to acquire and can be expensive. The Mazda version is generally cheaper than converting in the UK
The Conversions at our garage in the UK. The UK conversions are new and to UK specification. They are after market and so are removable. The overall cost of this conversion is higher than the campervan installed in the Factory. They are more luxurious and have many more options and features. Arrangements and specifications can be tailor-made to fit your requirements and budget. Click Here to see the Mazda Bongo page.
Both types of Camping Conversion available Via the Import Scheme. Email from here for details
Click Here 4 More Photos of the Factory Fitted conversion of the Click Here
Click Here 4 More Photos of the UK converted Options of the Mazda Bongo Friendee
Remember we can install a Brand new elevating roof into any tin-top model completely fitted and trimmed at our Bristol Garage upon UK arrival. This is completed whilst the car is being registered for you, so no delay in delivery to you. See the tintop versions, add about £3000 and you will have a brand new elevating roof version. Our prices are thousands cheaper than anyone else. Check for yourself!
An Example of a Toyota Hiace Campervan that were recently imported and was available for sale direct from Japan Supplied Fully UK Registered
1991 (Nov) Toyota Hiace (LH119) camper 2 & 4WD diesel 2800cc manual:
Grade 4 and very nice for the year. Soft dent on slide door. Dent on rear door at the bottom of the ladder. Very well equipped with twin berths, table, sink with hot & cold water, large water tank under seat, double burner stove with grille, fridge, roof vent with extractor fan, 'Propex' heater, side awning, screened windows and roof vents, plug-in, lots of cupboards, back-up batteries. Alloy wheels with good tires. Toyota front sump guard. Front fog lights. Hub locks. Tow bar. Rear ladder with built-in roof rack. 8 seater with full seat belts. Good interior with one small damage to side wall cushion (see photo). Couple of cupboard door latches need replacing. 74.000 miles with timing belt changed.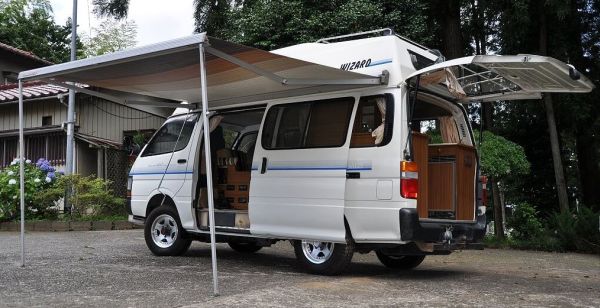 Fancy a LHD Full campervan? VW Winnebago is the answer.
Here is a lovely Mazda Bongo Campervan Elevating Roof with full camper conversion: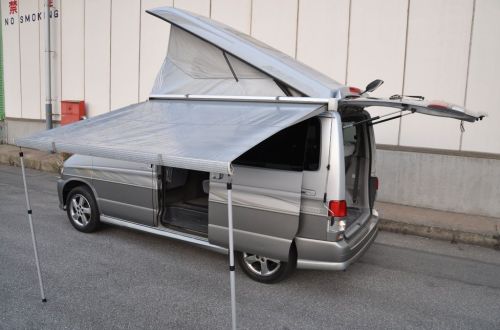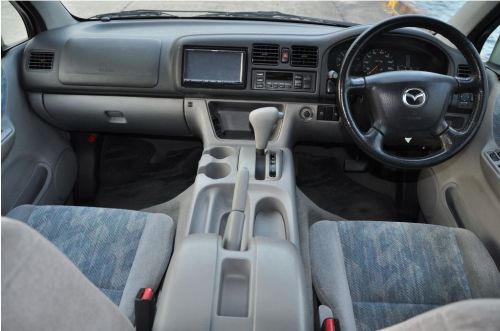 Grade 4 very clean car. Total Series V factory front and rear plus aero conversion. Mazda 17" alloy wheels. Rear spoiler. Privacy glass. Perfect AFT Elevating roof. Side awning. ABS. Dual airbags. Climate control. Floor mats. Power window blinds. Front and rear curtains. Clean interior. Leather steering wheel. HID lights. 65.000 miles. Two tone silver colour with clean decals.
Check out a few of our Youtube videos also.
You can subscribe to the Algys Autos YouTube Channel and see other videos as they appear. Here is an example of a Black Mazda Bongo on the YouTube Channel: (Click the lower right icon on the bottom of the screen to make 'full screen')
Some Recent Examples sold Via the Import Scheme
Toyota Hiace Campervan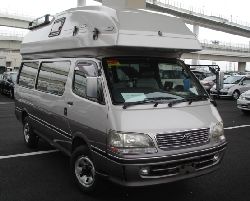 Camping Conversion Toyota Hiace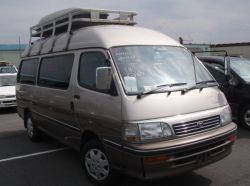 Rear interior of Toyota Hiace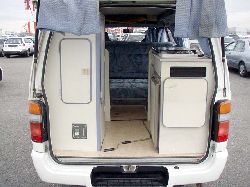 Rock and Roll bed of Toyota Hiace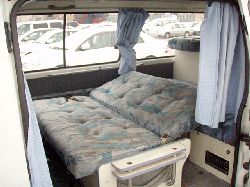 Full Camper Mazda Bongo Ready For Sale in UK!!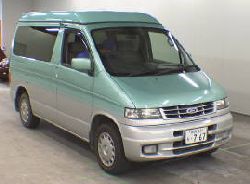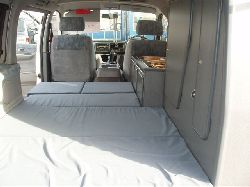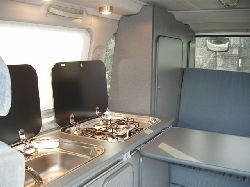 Mazda Bongo 2.5 turbo diesel with rear spoiler, aircon, Rear reversing sensors, in very rare and sought after aqua marine, 12 months Mot, 6 months road tax and a Brand New Full Camping Conversion consisting of:
Twin Gas cooker, sink and waste, rock 'n' roll bed, table, storage, external hook-up and leisure battery. Seats 5 sleeps 4
£**** OTR UK

…………SOLD But can you get this anywhere else at this price? I think NOT
A 1994 (May) Toyota Hiace campervan (LH119) 4WD turbo diesel (2800cc) auto:
Proper factory conversion especially for Toyota and marketed by Toyota. Grade 3.5  small dent on n/s front wheel arch. Soft dent behind rear ladder.  4WD with hub locks. 2WD/4WD option. Factory adjustable suspension. Sonar parking. Front bumper guard with fog lights. Rear ladder. Alloy wheels with good tires. Pop-up roof in very good condition. Side awning. Double burner stove. Fridge. Sink. Table. Two double berths. Full curtains all round. Twin back-up batteries. Plug-in. Cupboards. Nice clean interior not showing much use. 69.000 miles You will save thousands of pounds!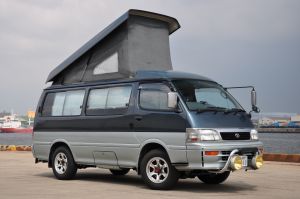 Some more Toyota Hiace Campervan examples for you: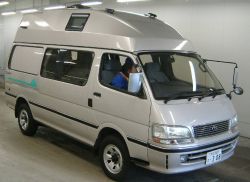 Now SOLD via the Import Scheme.

1993 (July) Toyota Liteace campervan 4WD turbo diesel manual
Grade 4 clean car. Monocoque build camper body so no leaky joints. Shower cubicle. Twin water tanks. Waste water tank. Full electrics and plug-in. Engel fridge (the best brand). Large reversible roof ventilator. Sink. Ample interior lighting. Large double bed. Pull-out door step. Fully curtained. Rear heating. Table. Ample cupboards. Front air-conditioning. Power steering. Clean frame and bodywork. Clean interior. Front seat bottoms need upholstery. Optional 2/4WD. 57.000 miles White colour with clean decals.
Interior Layout Toyota Hiace Campervan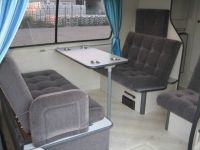 Interior of Toyota Hiace Campervan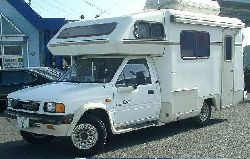 Isuzu Rodeo Campervan
1993 Isuzu Rodeo 3.1 TD full campervan.

Look you've seen the cars and prices…….. surely you got the idea by NOW!
Algys Autos Ltd is by FAR the best UK value available!! How? We have garages in Japan and UK. NO middle-men. We have the FULL infrastructure in place and we are not greedy. £350 profit per car SIMPLE. Try asking another dealer how much profit he's made on a car!
The very sought after Toyota Hi-Ace Full Camper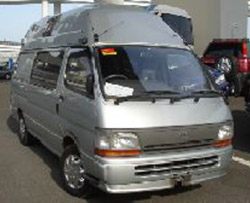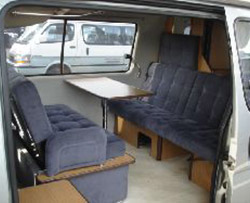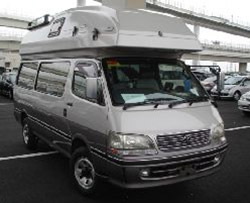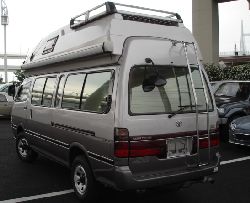 Toyota HiAce Campervan 2.8 Diesel FULL Camper
Metallic Silver, Cooker, Shower, Toilet, Designated Sleeping Area, External Hook-Up, Rear Ladder, Seating Area with table, Ample Storage Space, Sink and washing Area, Lockers, Air-conditioning, Electric windows, Mirrors and Locking, Tinted Glass,
Fully UK Registered
at an unbeatable price of just £SOLD Via the Import Scheme….
Fancy a Full Camper like this on the road UK Registered?
You can Via Algys Autos Import Scheme… Click Here
There really is NO better way to buy a Mazda Bongo than Algys Autos Import Scheme.
Stock changes DAILY, Continuous arrivals, email for full new list at any time.
Toyota Hiace Campervan raised roof version.