The Nissan Figaro – A Brief History
In April 1991 the Nissan Motor Company celebrated 50 years of vehicle manufacture and therefore decided to celebrate with a design and production of a very special limited car. Nissan had already worked with the Pyke design team in the production of the Nissan Pao, Nissan Bee and Nissan S Cargo and so they gave them instructions that this car was to be something 'Very special and that would reflect both style and quality for many years to come'. The Pyke design team made a very special car indeed, the Nissan Figaro. Nissan then announced that the car was so special and iconic that the production was to be very limited and Nissan were to produce just 20,000 Nissan Figaro (they were to be released in 3 batches, between February and September 1991).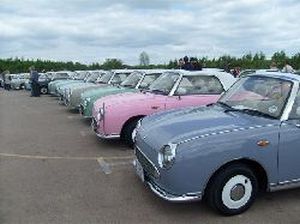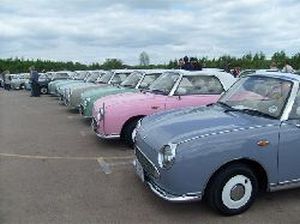 Nobody, not even Nissan could predict what was to happen next. Demand was enormous, in fact it was so great that potential customers had to purchase a ticket and enter a lottery in order to win the chance to buy the new car, which was priced at 1,870,000 yen (£13,000). Literally tens of thousands of lottery tickets were sold and any winning tickets were sold in newspaper ads and changed hands for far in excess of the suggested Nissan launch selling price!
The Nissan Figaro has a 1950/60 retro body style with matching retro interior, instruments and very retro dated cd/radio and of course a full length cabriolet. The Nissan Figaro was with total 1990's specification including power steering, power windows, full air conditioning, 2+2 seating. The Nissan Figaro was fitted with an automatic gearbox coupled to a 1.0 litre turbo engine and total Nissan Micra running gear. At the 1989 Tokyo Motor Show the car was unveiled under the slogan 'Back to the Future.' And so a 'Cult' Following was born'.
Today the Figaro regularly exceeds the initial cost price and good examples appreciate by over £1000 ($1300 US) per annum!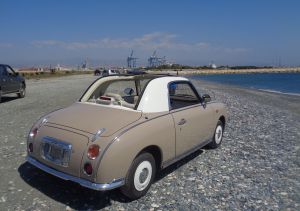 All the 20,000 Nissan Figaro were of course Right Hand Drive and designed with the Japanse Domestic market in mind. Algys Autos and Figs4u have been the premier Nissan Figaro supplier forover 20 years and ship the Figaro Worldwide. Bit what if you wanted a Nissan Figaro in Left Hand Drive, Customers in the USA, Canada and Europe long desired the wonderful retro convertible but in Left Hand Drive. Figs4u coupled with our Japan garage and took 4x years to develope and supply a NIssan Figaro in Left Hand Drive. We have now in the last 8 years supplied over 30 Nissan Figaro in Left Hand drive! The cars have mainly been to customers in the USA and Canada but also to Germany, France, Switzerland, Portugal and Spain.
The Figs4u Company
Figs4u are a subsidiary Company of Algys Autos Ltd. We have Offices in Japan, Cyprus and the UK. All our Figaro are sourced via our Japan Garage and Japan original stock and NOT from sub-standard UK sales sites! Figs4u are dedicated solely to the sale of quality Nissan Figaro. Algys Autos Ltd are our 'Mother Company' and deal in all Japanese Imported Vehicles. Figs4u have imported over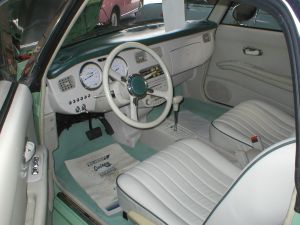 1/3 rd of ALL Figaro into the UK and are the premiere Supplier in the World! We are certainly the ONLY Nissan Figaro supplier that can offer Nissan Figaro in Left Hand Drive for sale anywhere in the World. The amount of work and expertise required makes it highly likely that Figs4u will remain the only supplier of Left Hand Drive NissanFigaro for sale. We have all colours available for sale including our famous Pink Nissan Figaro. We always have  awaiting list and prices increase with almost every batch due to the demand for the cars and value.
The wait is generally 4-6 months and we ship to any major port Worldwide and particularly the USA and Canada.If you were to purchase one of these Nissan Figaro in Left Hand drive the likelyhood of seeing another one in the USA is as likely as seeing a Unicorn! Once a Customer owns one of these Left Hand Drive Figaro the chance of them re-selling it is next to none. We know of only 2x of our cars being resold, one in auction in Florida that sold for $40,000, that was 2x the price we sold it for! And one in Europe that also changed hands at a handsome profit.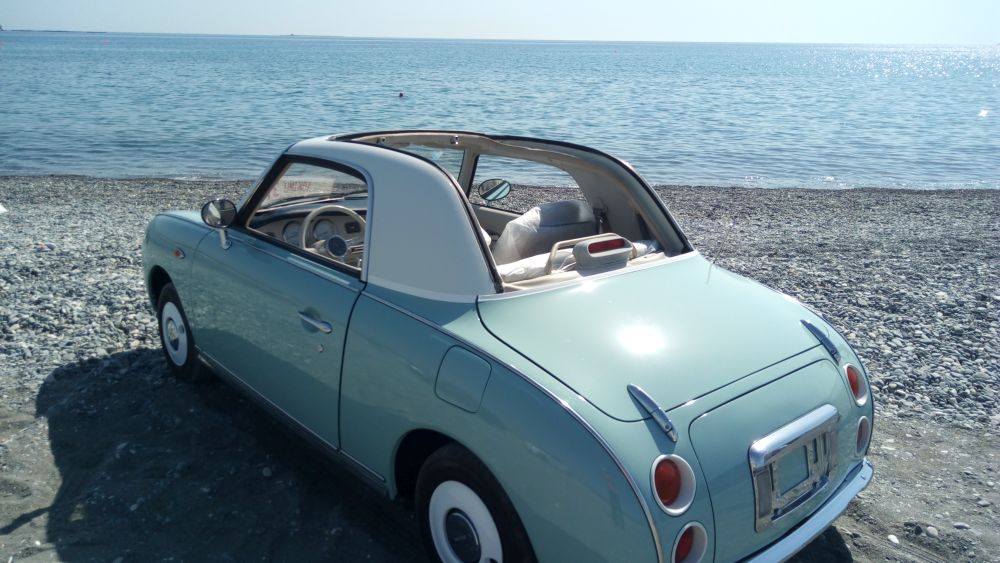 All Figaro enthusiasts have seen the LEFT Hand Drive Lapis Grey Figaro  that was on display at the Moscow Motor show some years back. Some have even said it was clever trick photography, but it has since been proven to be a genuine Figaro and in LEFT Hand Drive. The sale price? Don't bother asking, there isn't one. The car is not for sale abruptly confirms the owner, at any price.
There has since been a few more to emerge through Europe and Russia, and guess what, Figs4u supplied them all! Figs4u are the only know supplier of Nissan Figaro in Left Hand Drive!
The basic retail cost of a good Nissan Figaro in Right Hand Drive in the USA is around $20,000, we are supplying these incredibly desirable and fast appreciating retro classics in LEFT Hand Drive from $20,000 landed any Major USA or Canada Port. We naturally sell out as we announce the next orders within days if not hours!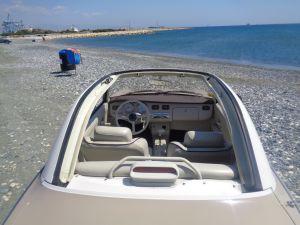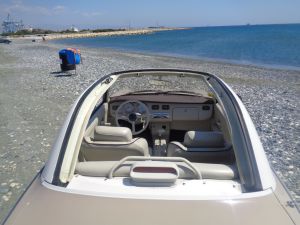 All of our Nissan Figaro are supplied direct from our Japan Garage as an original Japan car. They are all Grade 4 equivalent and less than 65,000 miles. They are thoroughly inspected and have no major faults. Fully serviced with new filters, water pump, timing belt and fluids (oils). The Figaro is supplied and shipped to the Major port of your choice. We can of course also fully refurbish the car at additional cost but many of our customers wish to retain the original patina.
You can also follow Figs4u on FaceBook and see some of the cars being fully refurbished. See here and subscribe to get Nissan Figaro email notifications of updates etc.
Mechanical Work
All electrics and mechanics checked and made good where necessary.
Including New
Fuel, air and oil filter changed
Engine flushed and new oil
New timing belt, water pump and tensioner
Engine set up and tested
New Headlights in LHD are sent to you in the USA if required inc in price.
Cosmetics
Fully converted to Left Hand Drive
All Chrome checked and replaced if damaged
All trim checked and replaced if necessary
CD Radio – returned to the manufacturer and fully restored
Optional Extras:
We can also supply at additional charge:
original Cup-holder
original silk seat covers
Limited edition plaque (replica)
Speaker upgrade
amplifier upgrade
seat conalising spray
carpet dye
** Algys Autos (Figs4u) can supply any colour Nissan Figaro fully in either Left Hand Drive or Right Hand Drive to any port Worldwide. Please check with your customs and registration authorities to ensure you are permitted to import / register. Different Countries have different regulations and they do vary between each Country and Registration Authority.
Nissan Figaro Left Hand Drive in Barbie Pink
Algys Autos Nissan Figaro main page click Here.
Figs4u is owned by Algys Autos. The Nissan Figaro website Figs4u is here