Toyota Hilux Surf For Sale UK Registered direct from Japan including Petrol & Turbo Diesel models by Algys Autos Ltd, THE Best Value Toyota Hilux Surf for sale in the UK. FACT. Your search for the best value and quality Toyota Hilux Surf for sale in the UK, starts and ends here! All available via our unique 'Import Scheme'.
Toyota Hilux Surf For Sale in the UK Via Algys Autos.
The UK Premier Importer supplying direct from Japan for over 20 years!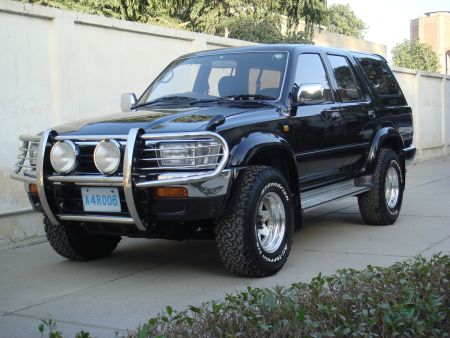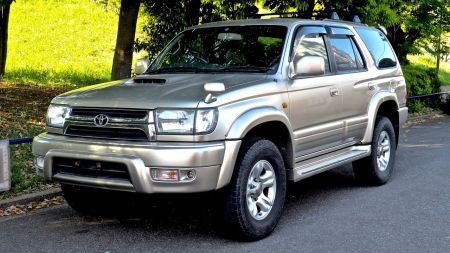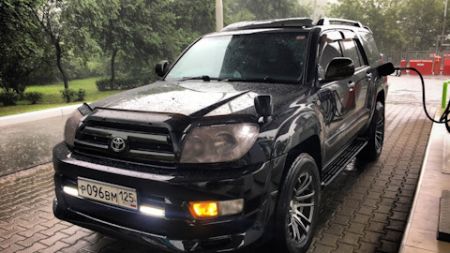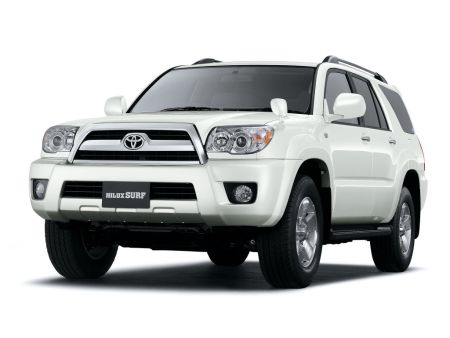 Introduction –
Important, Please Read
Toyota Hilux Surf Generation 2, 3 & 4.
The Toyota Hilux Surf in the Petrol version has now become the most popular Toyota Hilux Surf version to Import direct from Japan. Identical in all aspects to the sister diesel versions but with 2700cc, 3400cc or 4000cc petrol engines. Prices are very respectable and affordable making the prospect of LPG conversion a possibility. As always the Gen3 in SSRG is the more expensive but very nice quality SSRX limited editions with many optional extras make for equally sensible and attractive alternatives. Prices for nice condition petrol versions Hilux Surf Gen 3 start at about £6500 for a year 2000 as a guide price.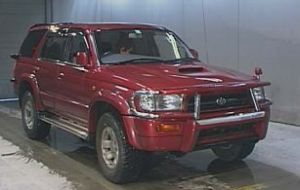 Compare our Toyota Hilux Surf prices and you will recognise that Algys Autos is, without doubt, the best 'Value for Money' in the UK, You will note that the prices offered 'Import Scheme'. The Import Scheme was a brain-child of Algys Autos over 20 years ago and many have tried to copy it with little success. The other traders even refer to the idea as the Import Scheme (conveniently dropping the 'Algys Autos' of course). The Import Scheme is where Algys Autos allows you to bring the selected vehicle into the UK as a 'Private Importation' and thus saves £1000's. We buy any model to your detailed requirements under this scheme via our Garages in Japan.
We are the UK premiere importer and supplier of Toyota Hilux Surf for sale and represent over 600 garages in Japan! Our UK garage at Bristol offer full facilities and your Hilux Surf can be delivered to your door via transporter. For full details click the link 'Import Scheme' above. These prices represent un-surpassable quality and value for money.
Algys Autos Ltd are suppliers of all Toyota Hilux Surf models to the trade, you too now have the opportunity to purchase at Japan trade prices! We consistently offer the very best value for money in the UK!
What sets Algys Autos Ltd apart from the rest?
That's simple, Algys Autos import fresh Toyota Hilux Surf For Sale stock direct from our Japan garages NOT from very inferior UK auctions or from Toyota Hilux Surf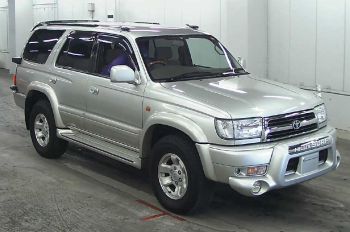 circulating for sale within the UK. Most UK traders buy from the used UK market, generally these cars are tired and have been subjected to the cruel and harsh winter roads and conditions. Ask to see the Japanese auction sheet and proof they imported it from Japan…..if they can't or won't provide it, turn around, walk away and come to the experts.
Contact us via email and tell us the model and details of the Toyota Hilux Surf you want for the UK, we always have access to dozens of Surf and will advise you accordingly.
Please Note:
Remember Algys Autos is NOT a garage. We are the UK Major Importer and Supplier of Toyota Hilux Surf from Japan Vehicles for more than 20 years. It is not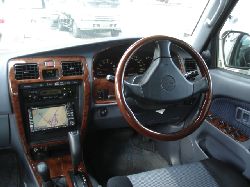 possible to beat our prices. Our Toyota Hilux Surf are supplied to our customers fully UK registered with 12 months Mot with the V5 in their name. The price of our Toyota Hilux Surf is 'On the Road' in excellent condition and at unbeatable value. This represents a massive saving on normal UK forecourt prices! To see full details of the scheme click the link 'Import Scheme' above. Algys Autos Ltd supply Toyota Hilux Surf to the UK trade, to avoid the 'middle-man' and save a fortune come direct to us!
Algys Autos have imported hundreds of Toyota Hilux Surf For Sale direct from Japan Supplied Fully UK Registered
To see Toyota Hilux Surf that we may have enroute from Japan into the UK or if you want a specific model and have an idea of your budget, it is far better to contact us direct and we can advise and import the vehicle especially for you with our bespoke Import Scheme. See some links below to help:
To search current Toyota Hilux Surf for sale: Click the 'Sock' link at the top of the page
To send an email and ask for advice and get the Toyota Hilux Surf of your choice: Email Here  
Gen 2 Toyota Hilux Surf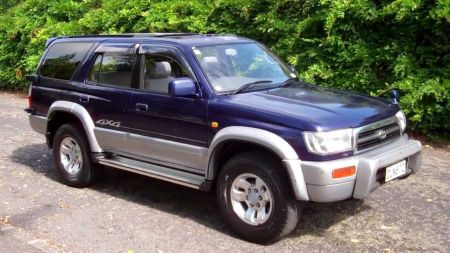 The highly desirable Toyota Hilux Surf For Sale – The 4×4 that Top Gear couldn't destroy!
If you contact via email and advise your Toyota Hilux Surf specification we will check Japan Hilux Surf for sale and send you details with photos you will get the opportunity to see a full details and photographs showing the Toyota Hilux Surf of your choice in the comfort of your own home to see time and again. These is NO obligation to our email service, advice or the YouTube videos.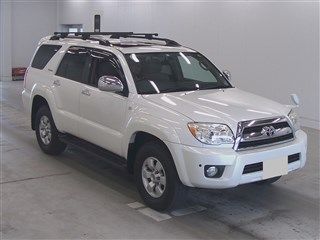 Toyota Hilux Surf For Sale – Gen 4 Versions For Sale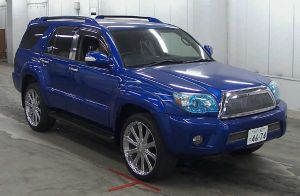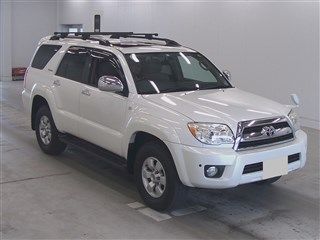 Just a couple of the Toyota Hilux Surf for sale from Japan to the UK. All are direct imported from Japan and supplied with full UK Mot and UK Registered. Email for the current Email list which is updated daily.
Look you've seen the cars and prices…….. surely you got the idea by NOW!
Algys Autos Ltd is by FAR the best UK value available!! How? We have garages in Japan and UK. NO middle-men. We have the FULL infrastructure in place and we are not greedy. £350 profit per car SIMPLE. Try asking another dealer how much profit he's made on a car!
IF you still need convincing check out our current stock list via email. No obligation, just email us and ask for the latest Mazda Bongo UK email list. Not difficult is it. And then get a grip on yourself and call or email, ask to be put on the daily email list  
Independant Review on Toyota Hilux Surf
The 3rd Generation Toyota Hilux Surf was introduced in late 1995 for the 1996 model year and ran until the end of the 2002 model year. Available only in the home market of Japan, other market variants whilst essentially the same, were marketed as 4Runners. Engine choices ranged from 2.7L 4-cylinder and 3.0L V-6 petrol's to 3.0L 4-cylinder diesel models, with the diesels having the option of an intercooler.
This 3rd Generation model marked a large departure from its roots, for the first time it no longer shared its basic chassis design on the hilux pick-up range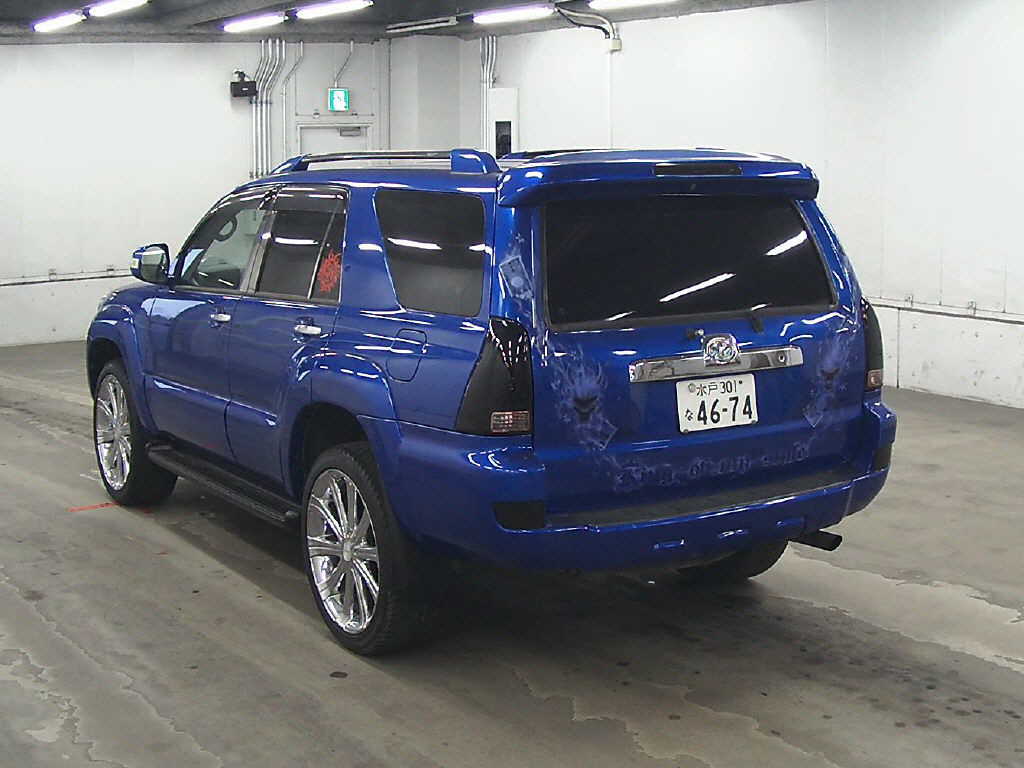 from which it had evolved and inherited its name. This time it borrows the chassis from the LWB Landcruiser Prado of similar vintage.Whilst visually quite similar to the model it replaced, the Surf does have a large number of differences, all body and interior panels are changed, with greater legroom front and rear and a larger cargo area.
The remainder of this review relates more specifically to the Hilux Surf 3.0TD AUTO SSR G specification
When I came to purchase my used 1996 Hilux Surf it was an easy decision, having some years prior owned a 2nd Generation Surf. Living with the Surf is very easy, with a level of ride comfort you will find hard to surpass in any other comparable off-road vehicle. Access is easy with side steps and internal grab handles should you require them.
Once seated, the controls fall easily to hand. Creature comforts are plenty with five electric windows (the window in the tailgate can be lowered too!), Climate control, separate rear heater, central locking, electric aerial etc.
The tailgate is fitted with a rather large spoiler, which may not be to everyone's taste, but it does do a rather effective job of directing airflow down across the tailgate helping keep the rear window quite clear. It also has another trick up its sleeve, press a button on the centre console, and a portion of the spoiler extends downwards revealing a mirror to enable you to see your rear bumper when reversing. A useful feature slightly marred by the fitment of the spare wheel carrier, which partly blocks the view offered by this mirror. On the subject of the rear wheel carrier, not all models have them, in theory they are only fitted to the range topping SSR G model, this is the only model to receive the trick spoiler too, however it can be a little misleading quoting the specifications of these vehicles, as many have had optional features fitted from new, so its not unusual to see what should be a lower spec'ed model with all the extras normally associated with a higher model Surf.
The Hilux Surf models should go like this (ranging from base to top-spec),
SSR
SSR Ltd
SSR-X
SSR-X Ltd
SSR G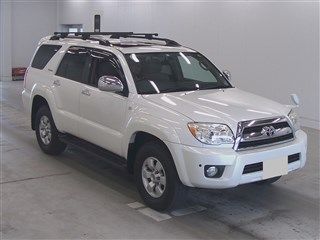 On road performance from the Hilux Surf 3.0TD is excellent, with bags of torque, it never has any difficulty keeping up with whatever traffic situation it may find itself in. Fuel economy is excellent too, rarely varying much from 26mpg. Drive one of these on the road and if you are used to other off-roaders than you should be in for a pleasant surprise, the Surf exhibits very little of the body roll normally found in such vehicles. The road holding and handling are such that it's in many ways more comparable to a normal estate car than other off-roaders. It will cruise happily all day at motorway speeds, with little wind or road noise, and makes any journey a relaxing affair. One criticism here is the seats, they are not as supportive as those fitted to some prior Surf models, look out for the very desirable Recaro seats option. In short it's terrific on the road.
Yet this does not compromise its off-roading ability. 4wd may be selected on the move both on and off the road on these models. Unlike many of its competitors is has a proper centre diff, allowing permanent 4wd usage if desired. It naturally has a low range fitted and of course a lock for the centre diff. Even fitted with normal road tyres many would be surprised at the ease with which the Hilux Surf can tackle mud, gravel, sharp accents and descents. The ground clearance and approach angles are good, although the long overhang to the rear may compromise the departure angle if serious off-roading is called for.
Having now had this 4×4 for over 2 years, it has been a joy to own. It had required nothing other than routine servicing and performs all that I ask it to flawlessly. With just over 200,000Kms clocked up, it could easily pass as a much younger example with less than 60,000Kms.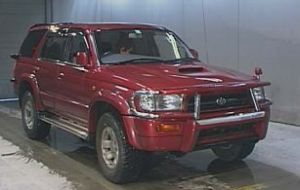 A pleasure to own, it's the second Hilux Surf I've had (3rd off-roader in total) and I don't see myself exchanging it for some time to come, when I do it will probably be for another Surf.
Algys Autos supply quality Toyota Hilux Surf at exceptional prices. Also we supply quality Mitsubishi Pajero Exceed, Isuzu Bighorn (Trooper) and Land Rover Discovery. Remember to see our Import Scheme to save even more money. Algys Autos are THE best value for money via Algys Autos Import Scheme is THE cheapest and best value for money Toyota Hilux Surf for sale UK registered possible…FACT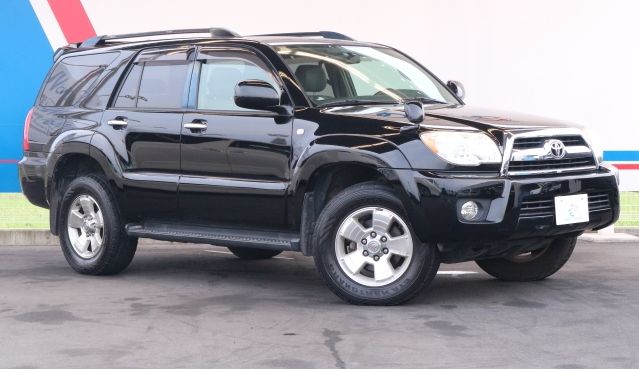 Are you STILL here? Surely by now you realise that Algys Autos Ltd is THE best value in the UK. Get a grip and email for details of how to get on the Import Scheme.
How easy do you want it? Look click this link and email from here  
THE Best Value Toyota Hilux Surf for sale in the UK. FACT.. Your search ends here! ….Available via our unique 'Import Scheme'. These vehicles simply just dont come at better value!
Import Scheme……Click the Import Scheme link above
Toyota Hilux Surf For sale  by Algys Autos Imports Ltd.