The Best Car for Fuel Mileage: Fuel Efficient Japanese Imports
Fuel-efficient cars are more popular than ever. Every driver has a different reason for wanting a car that gets great gas mileage. Perhaps you're wanting to save money at the pump, or perhaps your focus is on protecting the environment.
Whatever the case, there's never been a better time to buy a car that accomplishes both of these goals.
When shopping for the best car for gas mileage, there are plenty of great Japanese imports to choose from. This article explores several models that should be at the top of your list. Keep reading to learn the facts.
Honda Fit
The Honda Fit was first introduced in 2001. It continues to be popular among those wanting to cut back on fuel costs. This is one of the top choices for the best gas mileage cars because it not only saves you money but is also a total blast to drive.
The Fit offers an impressive amount of cargo space for such a small car.
Another benefit of the Fit is that it offers tremendous fuel efficiency without having to pay the higher sticker price that accompanies most hybrid or electric vehicles.
You can expect to get 33mpg in the city and 40 out on the highway. Not bad for a car with plenty of pep and a cool design.
Mitsubishi Delica
The Mitsubishi Delica is a fuel-efficient minivan made by one of the most reliable auto builders on the planet.
The Delica has been popular in Europe for decades. This is the type of vehicle built for adventure. Whether you're cruising the streets of your hometown, venturing off on a road trip, or heading for a long weekend on the beach, the Delica is the ideal choice for packing up your friends for a getaway.
Mitsubishi has produced a lot of functionality for the price. You have can choose between the optional 4-wheel drive, two different wheelbases, as well as an optional high-roof that's available with or without an array of stylish skylights for enjoying the sun and stars.
Suzuki Grand Vitara
When it comes to buying a car that is both fun to drive and fuel-efficient, the Suzuki Grand Vitara checks every box.
This Japanese import features a 2.4-litre four-cylinder engine and your choice of four-speed automatic or five-speed manual transmission.
The Grand Vitara is perfect for anyone wanting great gas mileage without sacrificing performance. It will handle curves, accelerate through traffic without hesitation, and make you wonder why you'd ever chosen to drive anything else.
Toyota Prius Prime
The Toyota Prius has become one of the most recognizable fuel-efficient cars on the road. It's obviously popular due to its hybrid powertrain, which generates awesome gas mileage while also offering impressive battery life, meaning you are able to stay on the road longer.
The Prime is a version of the Prius that offers plug-in capability. This is great for extending your mileage range. It requires about 5 hours for a full charge with a regular 120-Volt connector or 2 hours with a 240-Volt connector.
The Prime seats 4 comfortably, and gets 50mpg overall or 23 miles on the electric motor alone.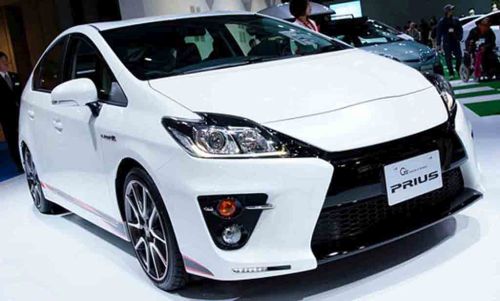 Honda Insight
Here is another Honda model that continues to be very popular among the elite list of fuel-efficient Japanese imports. Believe it or not, production on the Insight ended briefly but returned once again after the gap year.
This is a highly sought-after used car, and for good reason. After all, it drives like a champ and offers all the sportiness and fun lines that you could hope for in a car that provides amazing gas mileage.
Whether you buy new or used, the Honda Insight is everything you need for a commuter car or for going on holiday with your partner at your side and your favourite tunes on the radio.
Mazda CX-3
It should come as no surprise that Mazda makes an appearance on this list. After all, they've been producing an exciting array of performance cars for decades, and the CX-3 is certainly no exception to their impressive track record.
This sporty SUV offers the type of style you dream of in a daily driver, while also providing the level of gas mileage that more and more consumers consistently demand from the auto industry.
The CX-3 offers 31mpg combined and is available in front-wheel and all-wheel-drive versions.
This might be a smallish SUV, but it's also sharp-looking and as well-crafted as you've come to expect from any Mazda offering and handles like a dream.
Toyota Camry Hybrid LE
Now let's discuss the Toyota Camry Hybrid LE. This is a larger hybrid that's perfect for hauling kids to school or soccer practice, or for heading up the coast on holiday.
It gets an impressive 51 in the city, 53 on the highway, and the gasoline-electric powertrain under the hood generates 208 horsepower. That places it among the most powerful hybrids produced in Japan.
This particular model of Camry also includes Toyota Safety Sense, providing you with a remarkable amount of added safety and security on the road. This system offers the driver advanced safety features such as forward collision warning and pedestrian detection for increased peace of mind.
The Camry Hybrid LE drives like a luxury car twice the price, making it one of the best values on the market, and features stylish lines that make it every bit as fun to look at as it is to drive.
Choosing the Best Car for Fuel Mileage
Cars have long been an indispensable part of life. After all, everyone needs some form of transportation to get around. Whether you need a car for work, for school, or simply get from one place to another, fuel-efficiency is becoming increasingly important.
When it's time to upgrade your vehicle to something that will save you money at the pump, this article will help in selecting the best car for gas mileage while also helping save the environment.
Click here to learn about how to proceed on any of our vehicles.